Productivity Software in 2020
Challenging the "One Size Fits All" Productivity Suite
The first half of 2020 has been anything but the expected, with long-term impacts for society that may take years to fully solidify and understand. Widespread lockdowns have caused more of us to rely on technology and the Internet; that in turn is driving a (somewhat awkward, unasked-for, but nonetheless) nosebleed pace of growth in usage and valuations for business software companies.
Those factors, in part, encouraged our team at Bain Capital Ventures to lead the Series B in Clockwise, which we announced this month. In early April, Notion disclosed that it was the latest in a string of business applications to close funding on the back of eye-popping growth, securing financing at a $2B valuation, joining (among many others) Airtable at $2.5B+. As we enter the second half of 2020, it's clear both that our work technology is more critical than ever, and also that we are well into a new wave of startups successfully challenging the dominance of bundled suites from companies like Google, Microsoft, Adobe and Cisco.
Having learned from several years of conversations with founders and builders in this world, I wanted to share a review of the landscape: what are the key tailwinds? How are innovators differentiating? For founders excited about helping millions of workers be more efficient and productive, what opportunities may be under-explored today?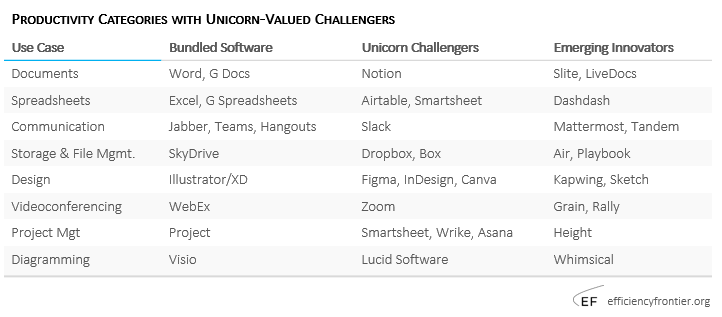 What are the tailwinds supporting these innovators?
Several transformations enable software providers to transact directly with their end user—and importantly, sell based on the users' personal, role-specific preferences and needs. These factors include:
IT Flexibility: A decade ago, business users started bringing their personal devices to work at such a rate that IT organizations had to adapt. Over the past few years, companies have bent to the reality that employees will also "bring their own tools" to enable their most efficient work.
Internet Distribution: Just as consumer upstarts like Warby Parker and Dollar Shave Club leverage digital channels to directly acquire customers, business applications can benefit both from organic social reach, and from launching hyper-targeted paid marketing on accessible minimum budgets.
Decline of Gatekeepers: One of the advantages of bundling was that a vendor could be judged on breadth of its productivity suite. But bundles therefore have to serve everyone, and when customers are free to choose the individual pieces that best address their needs, they'll often select a deep specialist, even if it costs more overall.
I've been using Command E for the last 6 months to find things blazingly fast 🔥

1⃣ Open a LinkedIn profile? Cmd+E
2⃣ Open a Greenhouse candidate? Cmd+E
3⃣ Open a note in Evernote? Cmd+E
4⃣ Open a doc in Drive? [aka the worst] Cmd+E

Highly recommend, check it out! 💯 https://t.co/oMfa6jtECx

— rahulvohra (@rahulvohra) October 9, 2019
Influencers sharing software on social media can now drive early adoption
How are they differentiating?
When given their own choice and freedom, business users are gravitating to alternatives that compete on:
User Experience: Many productivity challengers have an obsession with eliminating unnecessary friction in usage. When you spend most of your day in email, calendar, and similar applications, even a second faster is meaningful. Clean interfaces, friendly colors, intuitive interactions, thoughtful automation, instant loading, and familiar hotkey layouts all contribute to saving time and frustration.
Collaboration: With better web infrastructure and less legacy cruft, developers can build better experiences out of the box. It's become standard to expect multiple users working real-time on the same file, like design boards in Figma. As a bonus, in the natural course of users inviting their colleagues to cooperate on projects, they're organically evangelizing the product.
Brand: Office and G Suite tend towards the conservative in their messaging and marketing, reflecting the need to please a lot of audiences, and also address their target buyer (IT). G Suite's April Fools' jokes have been more timid since Gmail was lightly roasted for the "mic-drop" button that led to workplace misunderstandings. Young startups are unencumbered in adopting a more irreverent, friendly, and approachable tone that makes their users feel invested emotionally—and with their likes, hearts and retweets.
Community: Productivity challengers invest early in nurturing their developer and creator communities, often thinking from the very early days about integrating to other tools in their user's workspace, enabling developers to build extension capabilities, and promoting common templates and designs.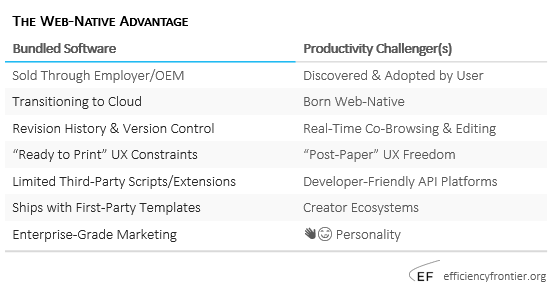 Where might more opportunities exist?
We believe that the enterprise software trends that enable user-led sales, and the productivity challengers that are emerging to better address user needs, will touch every tool in the workplace. For tinkerers and product people exploring opportunities, here are two rules of thumb that we use to map out potential whitespace.
The Rest of the Bundle
One analysis is simply to look at the major software bundles, and see where web-native challengers have yet to emerge, or are yet building momentum. For example, modern presentation products are starting to eat away at the dominance of PowerPoint. Their approaches recall the tactics we've seen among unicorn challengers in other categories:
Simplicity: Companies like Prezi and Beautiful simplify the tool, apply AI-driven automation, and otherwise find ways to reduce the effort it takes to put together a good presentation.
Web-Native Experience: Pitch is built with commenting and real-time editing enabled, and touts its ability to integrate data from other work tools, to keep your presentations up to date. No wonder they have users at Notion!
Buried in Existing Applications
Not only is Office a bundle, but it may turn out that each application is itself a bundle of a multitude of use cases. Excel occupies one icon on our desktops, but it actually serves a range of functionality, like planning expenses for a road trip (budgeting), or keeping track of grocery needs (to do lists), let alone tracking supply chains (SCM) and scraping data with VBA (data automation).
Within a bundle, Excel needs extreme flexibility to cater to a very broad cross-section of users. In a world where software makers can better target their ideal users, why not optimize the user interface, interactions, integrations and more for a narrow but powerful use case? It seems very possible that individual buttons in Excel, translated into dedicated productivity products, could become meaningful businesses in their own right.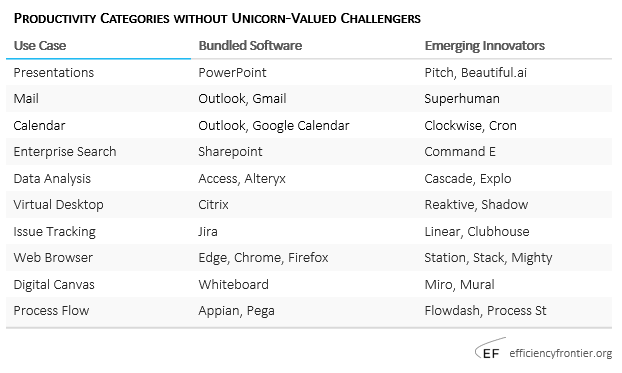 What are you building?
This modern productivity software wave has been an enormously thrilling ride so far. As we look to the frontier of knowledge work that remains to be improved, we can thankfully benefit from all these better tools to ideate, design, and build.
Do you have a vision for how we can become more efficient, creative and satisfied at work? Are you harnessing state-of-the-art infrastructure, an intense focus on product perfection, and/or a passionate user community? I would love to hear from you, and to continue supporting this transformation.
I wrote this with my colleagues Zeeza Cole and Ajay Agarwal, thanks to feedback on drafts from Jessica Retrum, Steven Lee, Tom Uebel and Jessica Ko.