Automating the E-Commerce Stack
Our Investment in Alloy
Needless to say, the way we purchase everything has inexorably moved online. From books, toys, and electronics, to groceries, furniture, and healthcare, it's become more convenient and affordable to order from the comfort of our homes (and smartphones). The global pandemic forced many to stay indoors and has been an intense ecommerce accelerant; after years of steadily climbing to 11%, online sales jumped to 17% of all retail last quarter in the United States, in a market of more than $5 trillion a year in spending.
Whether they were born digital, have migrated over time, or were spurred to action by lockdown restrictions, merchant adoption has created a tremendous market for ecommerce enablement. As platforms like Shopify and BigCommerce have gotten millions of sellers up and running, they have also catalyzed thousands of vendors providing a rich array of complementary applications and services: merchandising, mobile marketing, data capture, customer analytics, logistics, bookkeeping, inventory management, loyalty programs, and more.
While this ecosystem offers sellers the opportunity to choose the combination of tools that are the best fit for their businesses, it leaves two critical needs:
Tools need to sync data and work well together, but it is impractical for every vendor to build their own integrations to everyone else.
Sellers still need to do manual work using these tools, but as ecommerce volumes continue to spike, they need a low-cost way to scale with demand that doesn't create a lot of operational overhead.
Over the past two years, Alloy Automation has developed the solution to these challenges. Today, we're delighted to announce that Bain Capital Ventures led a $5 million seed financing for Alloy, alongside our friends at Abstract Ventures, Box Group, Red Antler, and an all-star cast of angel investors that includes the founders of Webflow, Shippo, and Attentive.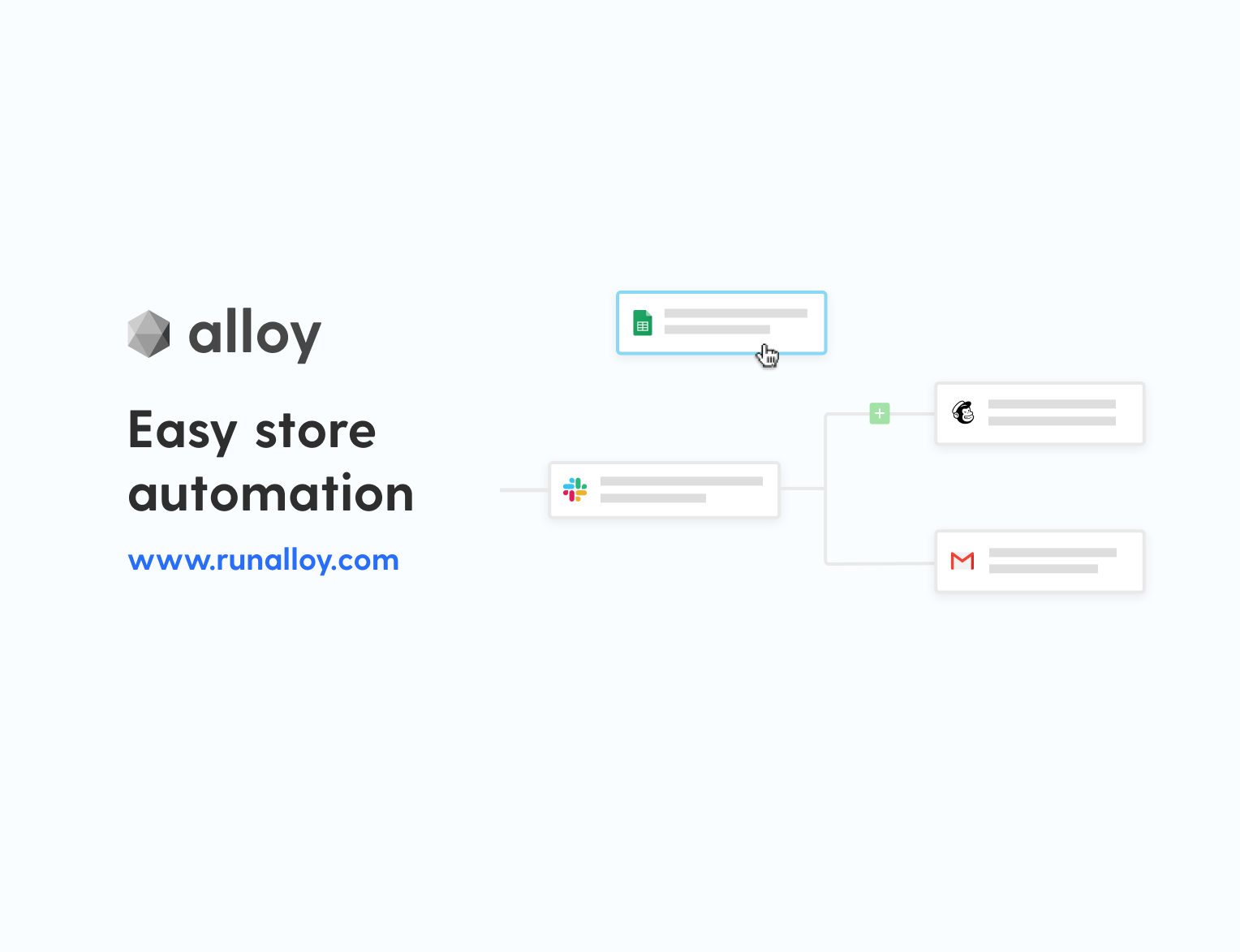 BCV is fortunate to invest in leading "commerce stack" companies, including ShipBob (fulfillment), Attentive (text marketing), and Flow (internationalization). These companies would like to integrate with the myriad ecommerce infrastructure apps their customers use, but can't sideline all their other critical product development to focus on building connections to dozens or hundreds of apps. Thankfully, as soon as their product is available on Alloy, an ecommerce software company can now close more business, knowing that their merchant customers can easily sync data across any other applications in the Alloy library. Alloy already supports 60+ products, with more added every week.
Moreover, keeping data in check turns out to be a small example of the full potential of Alloy's simple-to-adopt, no-code platform. With a few points and clicks, any user can automate otherwise tedious workflows in logistics, marketing, and store operations. A "recipe" might be as simple as adding a tag in Shopify based on order details, or as sophisticated as the Baltimore Ravens leveraging Alloy for the entire process of ordering cardboard cutouts to be placed in pandemic-empty stands during games.
As much as the product speaks for itself, our investments always come down to special founders who deeply impress our team. As a teenager, Sara Du invented a coffee cup that shocks your taste buds into tasting sweetness; after attending a year of college at Harvard, she opted to move to the Bay Area and focus on building products with DoNotPay, Wish, and Snap. Gregg Mojica got into Cornell, but chose to go build payments technology at First Data (now Fiserv), working directly with their SVP Engineering and serving on the customer advisory board for payments solutions giant Elavon.
Over the years that we've gotten to know Sara and Gregg, we have been continually struck by their creativity, hustle, and determination. After building dozens of automated workflows for friends, they realized they could build a single platform, which became the basis for Alloy. They are so committed to user empathy that Sara also runs a successful streetwear brand called Nightshift, with drops at midnight. A little over a year ago, they were pivoting through Y Combinator, subsisting on frozen veggie burgers from Costco; now they are supporting hundreds of customers, including beauty brand OPTE, luxury clothing retailer Italic, and a National Football League team.
Archeological records suggest that over 4,500 years ago, humans first started blending copper and tin to form bronze; the process of alloying combines two substances together that are stronger and more durable than either could be on its own. We couldn't be more honored to support Alloy in similarly enabling retailers and brands to flawlessly fuse best-in-class vendors into harmonized, automated operations that can deliver reliability and delight to all of us as ecommerce customers.
I originally published this announcement in Ideas from Bain Capital Ventures.