Putting Data in the Hands of Business Users
Our Investment in Hightouch
Today, we're honored to announce Bain Capital Ventures' participation in a $12M Series A financing for Hightouch, a fast-growing software company at the forefront of Reverse ETL. Cloud data warehouse deployment is expanding rapidly at companies of all sizes and industries, who are in turn picking up Hightouch to make that data useful in day-to-day business operations. In partnering with Kashish, Tejas, and Josh, co-founders of Hightouch, we're deeply fortunate to work with a team that combines in-depth subject mastery with an undaunted drive to deliver for customers.
Companies are unifying their data in the warehouse
I always appreciate the value of the modern data warehouse when I think back to the bad old days, when the team I worked on had three or four different numbers just for measuring daily product signups. There was a count in product analytics (skewed whenever users blocked our scripts), in each of our ad platforms (siloed by channel), in our sales CRM (trimmed for undesirable leads), and of course buried in our own backend database (where it was not very useful!).
With a data warehouse, teams can work from a single source of truth, running analyses on their complete dataset across channels, systems, and other artificial barriers. Adoption of data warehouses has been brisk; we've been continually amazed by the breadth of organizations, from cutting-edge Silicon Valley tech companies, to Fortune 500 heavyweights, that are far along the migration to a modern data infrastructure.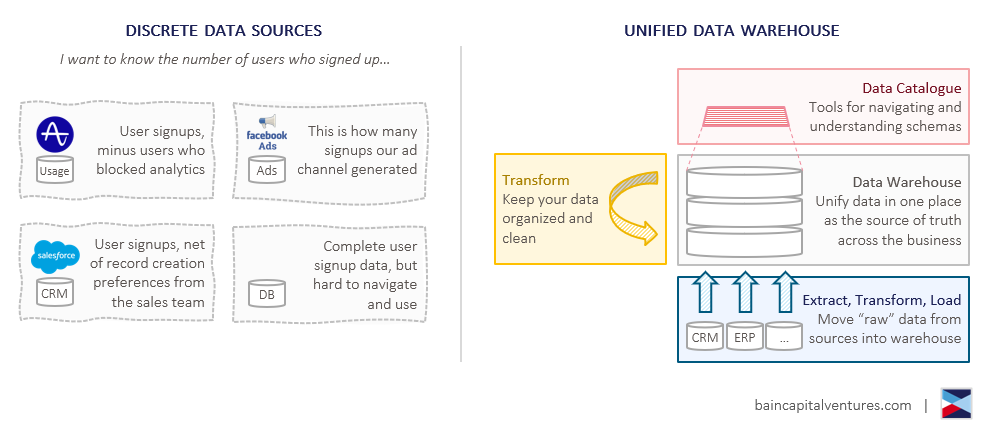 As my partner Aaref has written about, this transformation in data infrastructure was catalyzed by step-change improvements to warehouses as products (particularly with respect to speed), with Snowflake arising as a particular success story. Additionally, this trend has also conferred impetus and momentum to adjacent solutions, including those for getting data into the warehouse (Fivetran), organizing it (dbt) and cataloguing it.
Better visibility and analytics is a great start, and the logical next step is for customers to seek out and reward vendors that help them realize more value from their existing warehouse investment.
Hightouch surfaces data to customer-facing teams who need it
There may have been a time when companies could get away with selling customers with just a phone number and some scribbled notes, but that era seems long over. Today, companies are often selling directly to end users and individual buyers, rather than dialing a corporate VP. Customers are reading about and testing out the product extensively before it ever makes sense for a human to reach out to them. In this environment, savvy go-to-market teams are leveraging every signal across their systems and touchpoints to better target and personalize engagement.
Data warehouses, with the help of ETL tools, can get that data all in one place and organize it: product usage metrics that tell us a user is hitting a paywall, for example, or perhaps repeated openings of an email with pricing details that suggest imminent interest in a transaction. Salespeople, marketers, and other non-technical team members shouldn't need to interface with the warehouse; that unified data should also live alongside the workflow and functionality they already rely on day-to-day, say within a CRM like Salesforce.
This was the exact use case that originally drew us to the Hightouch team. We've been active investors in the world of user-led software, and many teams we work with are looking to leverage product usage data to prioritize potential enterprise accounts. Thanks to Hightouch, customer-facing teams at leading companies like AutoTrader, Nandos, Plaid and CircleCI are enjoying a leg up over the competition (and meeting customer needs!) by infusing their day-to-day work with a complete, up-to-date view of relevant user data.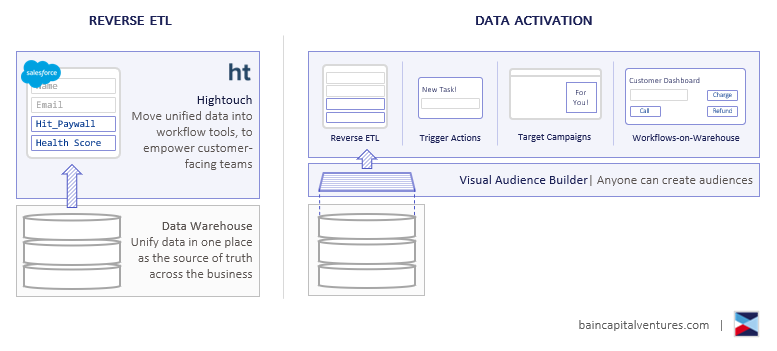 Piping individual fields of data to end systems—what the industry is calling "Reverse ETL", since it sends data from warehouse to field, rather than vice versa—is already a game-changer. But it's just the tip of an iceberg of underappreciated opportunities. As they grow, Hightouch is naturally expanding into areas including segmenting or filtering the data prior to sending it: creating audiences of high-value users to target with Facebook Ads, for example.
A year or two from now, we believe it will become clear that Reverse ETL is merely the simplest expression of a much more robust ecosystem of capabilities around activating warehouse data. Displaying data somewhere else seems relatively mundane in the face of Hightouch's potential to trigger or automate more sophisticated actions in the business operations stack, from sending Slack alerts on user activity, to Salesforce opportunity creation, and near-limitless recombinations of options.
Founders determined to deliver for customers
As great as any market tailwind and product opportunity may be, great companies are ultimately built by great teams. Tejas Manohar and Josh Curl were both early engineers and technical leaders at Segment, the pioneering customer data platform acquired by Twilio last year for $3.2B. The two met on the Segment Personas team, and their broader contributions included Segment's core integration capabilities for data sources and destinations (including warehouses), all deeply relevant and analogous experiences for Hightouch.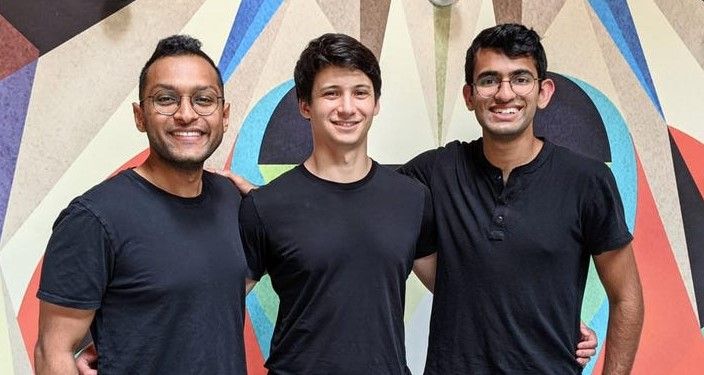 Combined with Kashish Gupta, who brings an entrepreneurial background in machine learning, product management and venture capital, they are a founding team formidable for its lethal combination of subject matter expertise and incredible work ethic. I usually hear from them after midnight, and always about new ideas, partnerships, and product releases they've thought up—or already completed! With teams like this in any market, I would be inspired to be a teammate, thrilled to be a customer, scared to be a competitor, and am truly honored to be an investor.
We hope you'll join us in celebrating this milestone for Hightouch, and looking forward to a brighter future where better customer data reaches the people who can use it to make our lives friendlier, more personalized, and more efficient.
More about today's announcement: Forbes, VentureBeat, dbt, Fivetran
Thank you to my partner Aaref Hilaly, with whom I wrote this post. I originally posted this content to Ideas from BCV.